Full Human Form
Okay, so we have a tempory fix in the form of Hello (blogger's free photo hosting service.) It's a pain in the arse to get stuff uploaded!
Let's work backwards shall we? I'm reading the Time Travelers Wife. It somehow seems appropriate to play around a bit with time and space.
The baby sweater was gifted on Sunday...
Could I be a more horrible photographer?
Moving back to Saturday morning. Arriving at the Sew-Up Bee thrown by Mothy yet stunning Julia FC and hosted by the lovely ladies of the Morrill Place Inn, I was greeted by this:
This package of goodies had whisked its way to us from Ann "down south". Now, I must say that woman has got her finger on the pulse of southern life. The package included: cheese in a can, saltines, bloody mary mix (with ALL the fixin's), and tang. All we were missin' were some grits and a twang.
Now, I will admit here in public that I was way disappointed not to partake in the tomatoey goodness. I wasn't sure if I'd like the blood of the mary. And frankly, I didn't even know these people and I WASN'T going to be the first to dig in. Let's ignore the logic that I don't know ANY of you and I'm free and willing, without a qualm, to fess up. And that many of you were there in full human form at that said time. As Kay said when she first walked into the group, "I feel like I should go into the other room and email you all to communicate."
Julia armed us with the beautiful needle art. Fully functional I might add. I left mine at the Inn...blech. Alas, it will live on in my memory....
Kay armed us with squares of goodness.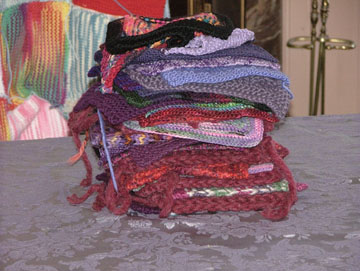 And we were off...
A finished afghan (not one that our group seemed up. Amy did spend some time finishing a knitted border.)
Notice the offspring of Kay...the boy could not be stopped. Bendetta's beautiful girl was in attendance as well. She sure likes chocolate!
Thank you
Ann and Kay
for all of the hard work and thank you
Julia
for gathering us all together!
Please see Julia's site for the full round-up of those in attendance!
Coming soon, more time travel...the birthday highlights....